ENTER YOUR ZIP CODE
to get insurance quotes in your area
Do You Need Car Insurance before You Buy A Car?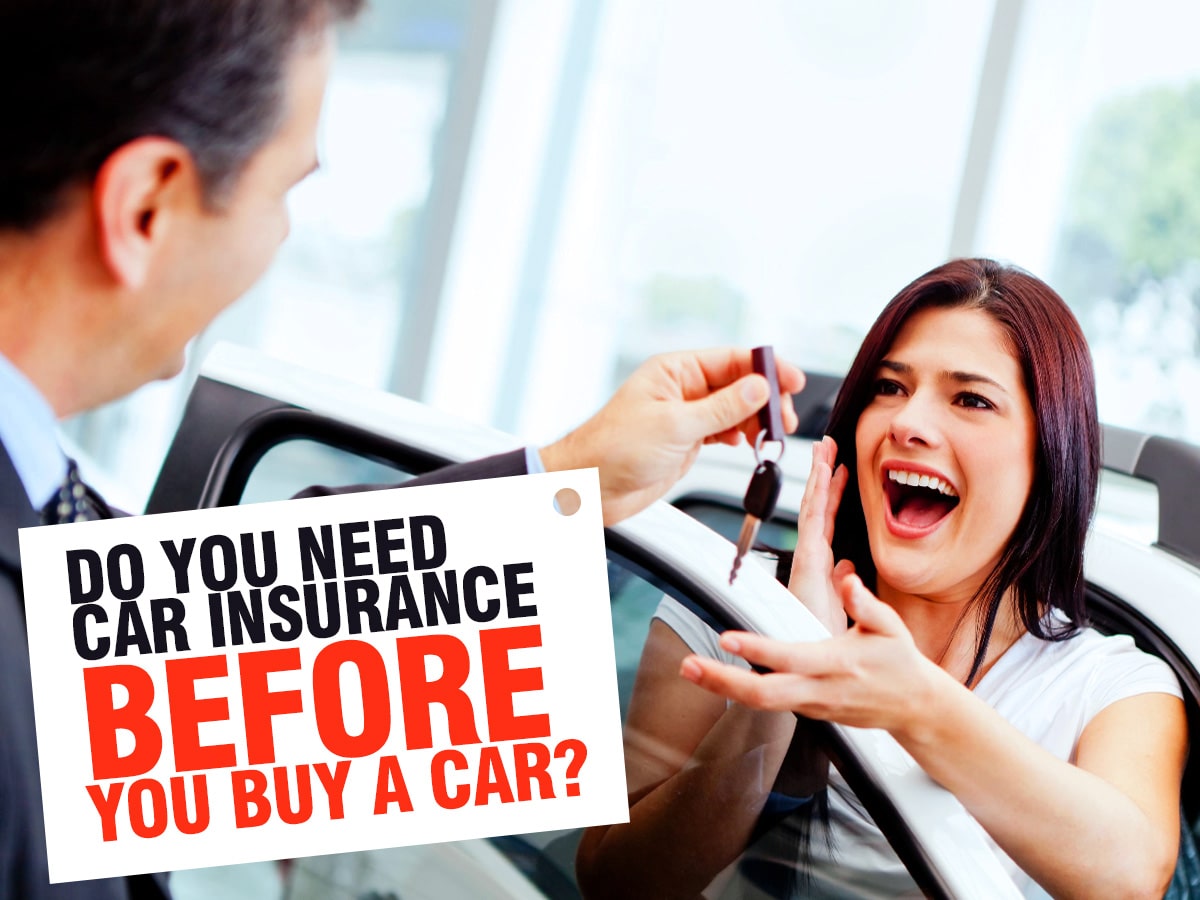 It is common for people who are purchasing new vehicles to have a lot of questions about automobile insurance, including the latest rules and regulations, as well as the latest discounts and information about automobile insurance providers. This site is dedicated to getting you the best information possible, on a wide array of topics. One of the most common questions that people ask when getting ready to purchase a new car, outside of what all of the insurance types cover, is whether or not they need to purchase automobile insurance before buying their car.
Do I Need Insurance Before I Buy a Car
As with many questions, this one does not always have an easy answer. Depending on your unique situation, you may come across either a yes or no answer. To clarify some of the many situations people are in when they are purchasing a new vehicle, the following sections have been provided to give more detailed answers. Whether you are going to pick up your first car or already have a car and are looking to purchase another one, the information you need is available right here.
If You Have an Old Policy
In many cases, you will need an automobile insurance policy before completing a deal when buying a vehicle. If you are looking to lease a vehicle, or take a loan out for a vehicle, the leasing or lending company will want proof of insurance. Sometimes these companies require full coverage on the automobile in the terms of the lease or loan. If you have an old policy on another vehicle that is still active, you may be able to simply transfer that policy over to the new vehicle, sometimes needing to pay the difference between the costs of the two plans. Some companies will allow you to drive a vehicle off of their lot if you have an insurance policy on your current vehicle. You will still need to make changes as soon as possible to put insurance on your new car that allows you to drive it for regular use.
New Car Insurance Grace Period
Some insurance companies allow a grace period of as few as five days or as long as 30 days when new cars are purchased. Even so, it can be best to get coverage for your new vehicle before you purchase it in order to avoid confusion.
If You Don't Have Any Auto Insurance
If you do not have any type of automobile coverage, it is highly recommended that you get some. Driving without insurance is illegal in most states, and can result in fines, fees, and other legal repercussions. Additionally, automobile accidents can be extremely expensive when you do not have car insurance coverage. In the unfortunate circumstance that you get into an accident just after driving off of a lot with your new car, it is good to know that you are covered.
If You Are Buying a Replacement Vehicle
If you buy a replacement vehicle, it is likely that you can call your insurance company from the dealership and provide them with the information they need about your new vehicle to change the policy over. This can be the most convenient way to get coverage quickly. To register your new vehicle, you will likely need to provide proof of insurance. By taking care of all of these things efficiently, you can avoid the possibility of getting expensive tickets if you are pulled over.
If You Buy an Additional Vehicle
For people who are purchasing an additional vehicle, it can be most convenient to add another insurance policy with the company you are already using. Many automobile insurance providers give discounts to people who purchase insurance policies on multiple vehicles. Taking advantage of these discounts can be a fantastic way to save money. Because all of your information is already in the system, adding a new vehicle can be as simple as making a phone call or going online and making changes to your account there.
Paying Cash for a Vehicle & Driving it Home
If you are thinking about purchasing a vehicle from a dealership with cash or buying one from a private owner, you may have additional options to consider. If you decide to purchase your insurance policy before buying the car, you will be covered when you leave with it. Unfortunately, you will also have paid for insurance if you end up not getting the car.
Some car insurance companies provide short-term insurance, which only lasts for a few days. By purchasing this insurance, you will have a few days to find the best rate on a car insurance policy and still be covered.
You can also go online as soon as you purchase the vehicle and get a policy through your cell phone. Proof of insurance is instantly sent via email or available for download on your mobile app in many cases. Check with the company you are considering to see if you will have instant access to your policy, which solves a lot of the potential issues people can run into.
Buying a Vehicle On Credit Or Leasing & Driving It Home
If you are purchasing a vehicle on credit, you will likely need to buy collision and comprehensive insurance to leave with the car. Cars are generally not financed or leased unless they have these types of insurance. Technically, the car isn't yours until you have paid it off, so companies want to make sure the investment is protected.
See also: Is One Day Car Insurance really a thing? Well, it's sad to say that... Tips About Life Insurance With Mental Health Considerations There... When you are looking for car insurance there are definitely some...